Now, I am a girl with a vicious love of handbags and deals. Combine my favorite brands and deals delivered to my inbox weekly? A dangerous temptation! With options of various plus size designers(YES, they have them!), accessories, shoes, jewels, scarves, and so much more, this is what Shop It To Me tempts me with weekly!
Imagine this:
Imagine waking up one day without life pulling you anywhere, sitting down at your computer/mac with a fresh cup of coffee or tea in your hand, to find in your mailbox the newest and latest fashion deals in your plus size frame that your personal shopper has sent to you; no longer having to scour all the latest places for your style, size, and price range.
Now open up your eyes and breathe!
It does exist and Shop It To Me brings the best of plus size fashion and the deals to you!
So, in the spirit of The Curvy Fashionista turning TWO, Shop It To Me is giving away this FABULOUS Linea Pelle Crossbody bag to a lucky reader!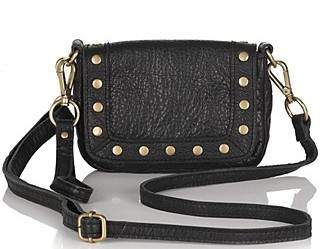 Nice yes???
Okay, so to enter, there are only Two Things to do!
Leave a comment with how many purses you own!
(I own 12!)
That's easy eh?
You have until Sunday, December 12th at midnight PST to enter!!!!
Good Luck to you!
*****Don't forget to check out this week's Blogiversary Giveaways! Boots from 80/20, a Dress from Monif C., and a Gift Card to Nordstrom for $100!*****