Today I wanted to share with you one of the blogs that has and constantly inspires me and give me direction, Miss Ashe Mischief of Dramatis Personae.
Happening across her blog, she has an extremely inviting site, wanting me to look around! Ashe has been around for a minute as a blogger and in many ways, she has helped me to fine tune, tweak, and deliver my unique voice while keeping my site clean and organized!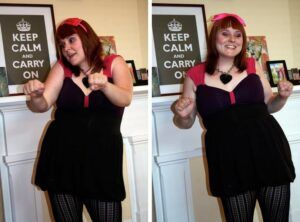 What is even cooler, is that Ashe may be a plus girl, but her site covers the gamut in fashion, highlighting indie designers, vintage finds, blog tips and guides, seriously- she is a wealth of information! On top of everything, she is as cute as a button and so accessible! Whenever I had a question when I was starting out, she was right there answering questions I had- and knew the answers and was NOT afraid to share her point of view! Extremely witty and smart in her words, her content constantly has me returning back to read her insights!
Some of my favorite posts include:
Finance and the Fashion Blogger: Happiness is…
If I were another Person
Fashion Blogger vs. Fatshion Blogger
Asides from her blog, you can catch Ashe sharing her pearls of wisdom over on IFB (Independent Fashion Bloggers) and on Twitter! Make sure you pop over to Dramatis Personae and take a gander at why I am in awe with her!
Much Love Ashe and KEEP IT UP!