This past weekend, Kelsi, the founder of Two Point Oh LA invited bloggers together to shoot a Fall Lookbook, highlighting certain trends for the season. Excited and eager to represent the curvier woman, I volunteered to style the shoot!
Little did I know I would be modeling in it! A few last minute changes and voila! I found myself scrambling in my closet to pull off the Nomad trend- capes, ponchos, and all winter begs for!  I had to get creative and innovative- but it came together- kind of!
For starters, I got lost. Like tears and freaking out lost, until I remembered my phone came with Google maps! It was warm, but it was so much fun!  I had a blast at the California Market Center! When I arrived, music was bumping, other foxy fashion bloggers were playing dress up- planning their next looks, and goodies were spread out across the room!  Even the amazingly yummy Mac and Cheese!
Micha Jewelry supplied the fabulous table of gems for us to play in- even the, um …
What would you call this fabulous headdress?
A headlace? Lol it was kind of fierce! Thanks to the lovely Alicia of InnyVinny (Instant Vintage!)
It was my turn to play in the makeup, all provided by NYX cosmetics! Now… being an African American woman, I was nervous about pigment, color intensity, etc. etc. BUT I am a NEW BELIEVER! I felt fierce!
Here are some behind the scene shots of my look!
So, while me and Instant Vintage were playing in jewelry, our makeup artist tapped us on the shoulder and informed us about the jewels we could make ourselves comfortable with- wait-
FREE MAKEUP?
I was all in it!
We made a mad dash and I made out like a bandit! Here is what I scooped from the LA Based cosmetic company, NYX, named after the "ancient Greek goddess who ruled the night just like many of our fans who rule the night life in this modern techno-savvy world." My Goodies included: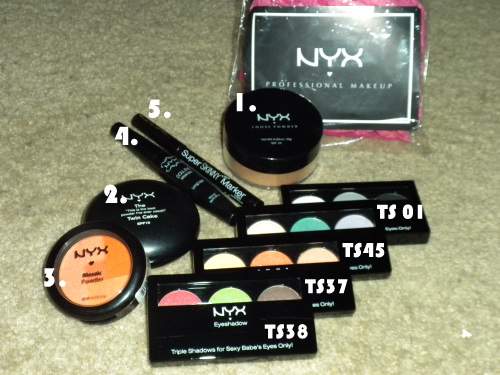 NYX Loose Powder- 05 Goddess Shimmer
The "This is the best powder I've ever used" Twin Cake- CP18 Chocolate
Mosaic Powder –MBP10 Love
Doll Eye Mascara- Long Lash
Super Skinny Marker- SSEM01 Carbon Black
Trio Eyeshadow- I scored 4!
TS 01 White/Gray/ Black
TS 37 Shangri-La
TS 45 Hippie Chic
TS 38 Perpetual
Stay tuned, because as the lookbook is put together, I will share with you! In the meantime, check out the ongoings of Two Point Oh LA!