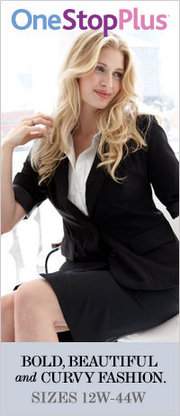 One Stop Plus is undoubtedly on a roll… With their debut as the FIRST and ONLY plus size company to present during New York Fashion Week, One Stop Plus is definitely bringing variations of plus size fashion to the masses.
Imagine my surprise when I saw this commercial late on night! I stopped what I was doing, in awe! Asides from the Lane Bryant Commercial and its own controversy, I literally was besides myself with intrigue….

Have you seen this commercial?
While One Stop Plus may not be the edgiest, most fashion forward of the brands and designers NOW plentiful available for plus size women, they are definitely one of note. Especially as they have boldly dared into unchartered territory for plus size women!