You saw Marie's post of Amber Riley's Emmy fashion, now see what fellow curvy girl Christina Hendricks wore last night. Christina dazzled in a lilac Zac Posen dress that looked like it was inspired by early 1900s fashion. The clothes of that time were famous for their curvaceous nature, so naturally the shape was perfect for Mad Men's resident hourglass shaped secretary.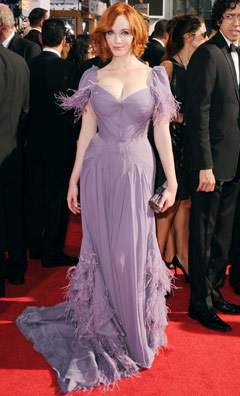 I love the color on her. Most people don't realize that people with pale skin can wear what I call dark pastels. Instead of trying a light yellow or even a light blue, try a light purple or green. Her cleavage was tastefully done, as well. As someone with a large chest, it can be hard dressing around it or for it. Either way you come off looking skeazy or like a prude, but she managed to show just the right amount. The gown is from Zac Posen's Resort 2011 collection. I hope he decides to design for more curvy women in the future.
How did you like her dress? Was the cleavage still too much for you or not enough?