A Day touring New York's Plus size fashion scene- Off Broadway Boutique
What would a trip to Full Figured Fashion Week be without fully experiencing the fashion capital?
Imagine a day to traipse around the New York, chauffeured around in an executive bus with a tour guide, hitting New York's haute-est spots for plus size fashion.  This year, assisting with the NYC shopping ventures, Full Figured Fashion Week™ and I fashioned a plus size shopping excursion to take the full-fledged fashionista to the fashion spots around the city.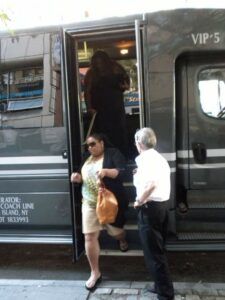 On the last day of Full Figured Fashion Week™ and the day of the finale, 20+ women gathered at the top of the day just for this: The Shopping Excursion.  Starting at 8:30 am, yes, THAT EARLY, these curvy fashionistas gathered for a jam-packed, fun-filled, fashion extravaganza throughout the city and beyond with a tour of handpicked plus size boutiques and designers.
What was exciting about this trip was that there was something for everyone, from high-end designer to the consignment score.  This day was all about having fun while being presented with shopping options you hadn't had the chance to have!  Ladies from France, Canada, Georgia, and throughout New York gathered to indulge their shopping habits! Our First stop: Off Broadway Boutique…
The Off Broadway Boutique
Our first stop took us to the Upper West Side of New York to a neighborhood favorite.  Fashion Designer and stylist to the stars, Lynn Dell was gracious to open her doors to us before opening to the public.  Off Broadway Boutique is, as one attendee shared, "a hidden gem in NY!  I walk in this area everyday and would not know of the beautiful items found inside!"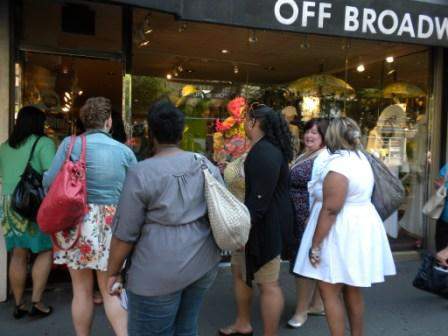 Naturally, in the 8 o'clock hour, we were still trying to wake up, but thanks to the amazing hospitality of Alix and the staff, they prepared a light breakfast paired with coffee and juice- the necessary breakfast of champions to get us going. Much needed, because there were so many things that caught our eyes!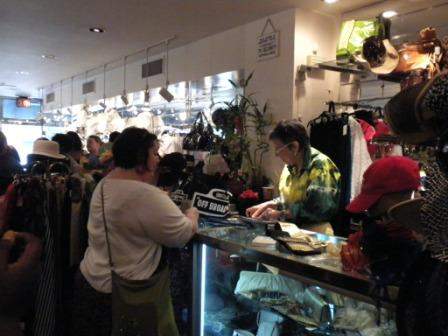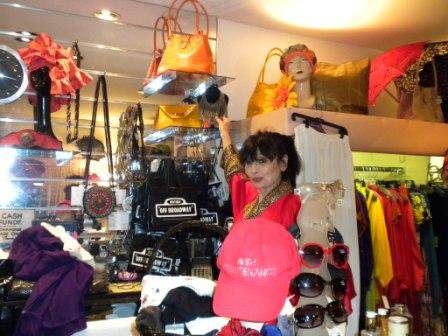 Asides from the extremely attentive (almost psychic) and patient staff (I mean top notch) the selections were endless.  Although the site says that it caters to the more mature crowd, KNOW that there is something for everyone here! The day's highlights include: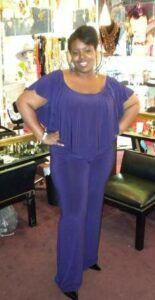 -          The "Reruns" Department
Their consignment department, located in the back is where I was instantly drawn!  Amazing designer vintage and rare jewels- I was in heaven! Like Chanel drop earrings?  YES! Clothing like Chanel, Armani, Valentino, Gucci, and Louis Vuitton? YES!  From vintage jewelry, drop-dead furs, designer and vintage handbags- HEAVEN!
-Â Â Â Â Â Â Â Â Â  The Design Studio
They have this special service for you in the store, where if there is something you want, from their exclusive collection, and it is not in your size, they MAKE IT FOR YOU in HOUSE!
Ladies left with smiles, bags, and glee as the tone was set for the day's festivities! Especially as those who were shopping for last minute scores for Full Figured Fashion Week's FINALE!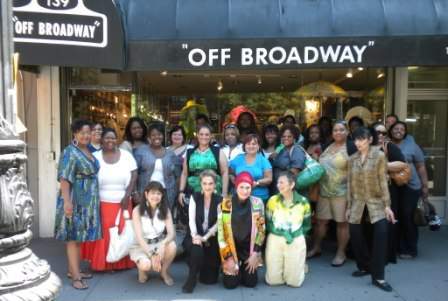 To find out more about this high-fashion, highly addictive, and exclusive gem in the Upper West Side, please visit the Off Broadway Boutique website or catch them on Facebook.
Stay tuned for the recap of our next stop: Re/Dress NYC