It seems like the international brands are wising up to the spending power of the curvy fashionsistas! UK based brand, Simply Be, announced at the top of the month, their arrival to the US. Â In celebration of their arrival and Full Figured Fashion Week, I teamed up with them and they fashioned me a few outfits to sashay my curves in and take their fashions on a test drive.
Overall, I must say- They rock.
Why?
With the ability to produce fast fashion and great quality is always a win in my book.  I am the ultimate fabric snob- to the core.  I need things to be finished, worn with a no-fuss attitude, on trend, yet classic.  Yes, I am picky and particular.  I am not too flashy, well maybe at times, but for the most part, I am what I have recently defined as Boho luxe.
So, I say all that to let you know MY particular aesthetic when it comes to my style, comfort, and function with fashion. Â Please note that I chose items from their UK site, and not all are available on the US site! With that, here are a few items I picked and played with from Simply Be.
First up? Â The Ruby Rox Jumpsuit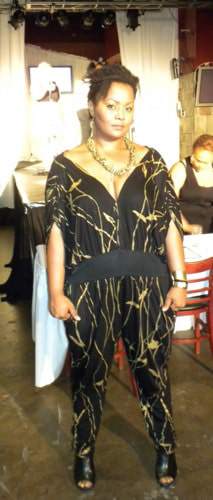 I rocked this during Full Figured Fashion Week on the second night.  This was sooo comfy!  Regardless of how tall you are, the rouching at the bottom of the leg makes it work for you in addition to the tie back closure!  You can control how open and loose or closed up you wish this to be!  Popping your own bits of jewelry completes this look and most definitely leaves an impression!
Joanna Hope Sequins Blazer (In the US)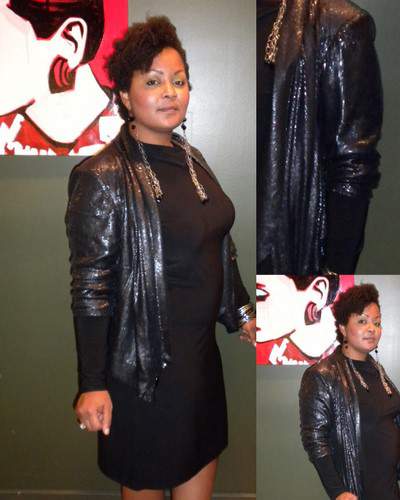 I have died over this jacket and I was so nervous about it. Jackets can be testy when it comes to the arms, waist, etc…  So, when I received this jacket, I was excitedly anxious.  Why it works? The loose waist and relaxed lapel gives just the right amount of structure on top of a dress, like shown here, or flair to denim!
One Shoulder Jersey Top With Sequin Detail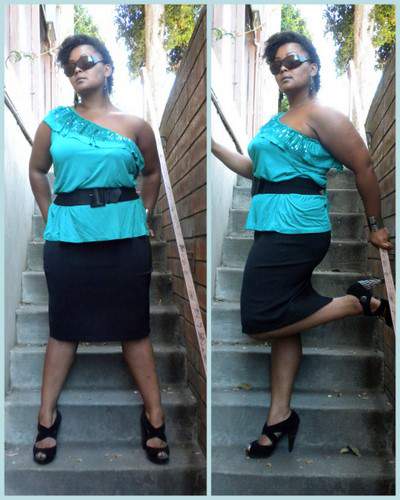 I wanted to change this up a bit, from what would be expected! Â Since most of my events happen outside of the club, I wanted to translate this to a cocktail party, meet and greet, with a twist! Â This a-line tunic comes with a tie back, yet I opted for belting and blousing this top! Â Paired with a Ponte knit skirt that moves with my curves and a kicking Naughty Monkey score, I feel fierce!
Lace and Jersey Top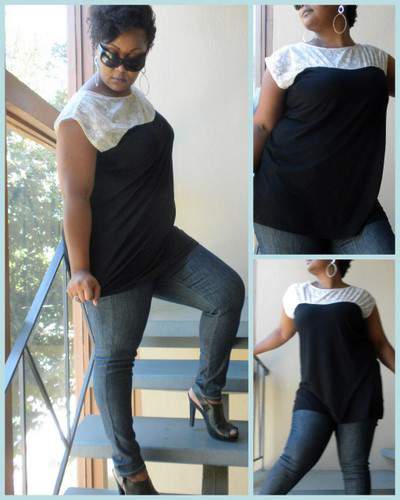 Just the right amount of sugar and spice. Â I am not too sweet and girly when it come s to fashion, so I was on the fence with this pick, but I knew it had its potential! In person, it was just as I imagined with the sweetheart neckline, and the peek-a-boo lace detail. Â Paired with leggings OR my jeggings as worn here, effortless and fun in one!
Lastly: Ribbon Trim Tunic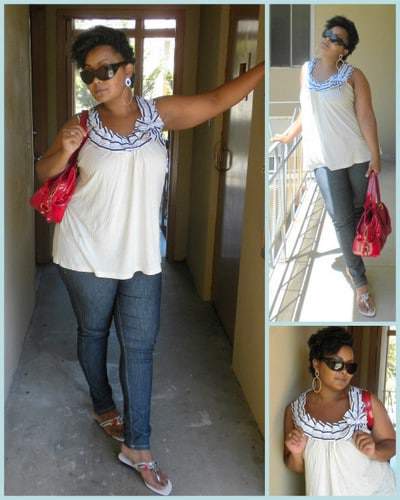 On the casual and relaxed day, this blouse worn either with jeans OR shorts, especially on those heat wave days seen in New York or desert heat in SoCal, this top is easy and breezy!  I really loved the detail applied to the top, with the topstitching and reinforced backing of it!  I know I can wash this top over again and it will not come apart!
Overall ladies, I am a fan of Simply Be, not because I copped some items, but because these items are staples I will wear over and over again because of its form, fit, and function!  Now granted the catalog for Simply Be in the US is small- giving you the latest from Spring and Summer, but it will grow with time- especially with the arrival of Fall!
My current lust?
The Crotchet Trim Tunic!!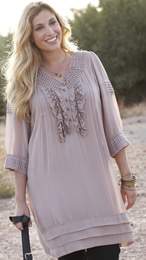 Which item from their UK site would you like to see on their US site?
Are you ready to shop? Â Make sure you visit the Simply Be website and follow them on Facebook