Krystal is a new contributor to The Curvy Fashionista! Please welcome her and share your lovely thoughts!
Temperatures rising, days are longer, translation? Summer is almost here. Time to hastily pack away the ever fabulous thigh high boots, cozy cardigans, and fashionable tights to make room for the breezy linens, flirty skirts, sassy maxis and gladiator sandals. The change of weather, the sun kissing your skin, and the change of a fashion season are all reasons why I love the summer- all but one thing….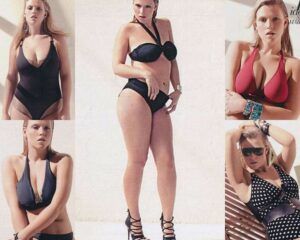 Something about summer brings forth my deepest insecurities. When the sun is glaring and the heat is unbearable, there is only one place to go- the beach! Immediately, I turn into a "frumpy fashion" don't, who would gladly receive three wolf tickets for my fashion infractions. If you were to peek into my beach bag, you'd be surprised at what you'd find: a man's wife beater, a pair of shorts and an old bra and panty set. Mhhmm, you heard me! I know you are wondering, how can you be fashionable wearing that? Easily, I haven't been- or at least when it came to swimsuits. Trust me, plus size swimsuits don't flatter me; or at least that's what I always thought. How wrong I was…
I have finally found a swimsuit to cater to my lovely size 20/22 lady lumps.
Swimsuits for All, was one of the first websites I found (I know, I know- Marie is gonna kill me for not knowing- but I just knew me and swimsuits do not mix). They have tankini swimsuits, one piece swimsuits, and mix and match combinations (such as tank top matched with a brief bottom or a skirt bottom). The selections are vast and unlimited. I don't know why I didn't know about this site before!
Angst filled my belly, knowing that I had to endure this challenge, to review this swimsuit. When my swimsuit arrived, I immediately ran to my bedroom. Nervous and scared, I questioned if this swimsuit would flatter me. As I stepped into the mirror with my eyes closed, I slowly chanted:
"This is it! Swimsuit This. Is. It. This. Is. It."

On the count of three, I opened my eyes to see….
This beautiful Beach Belle  Domino Plus Size Empire Swimdress Swimsuit . This swimwuit  is the bomb! Primarily because it accentuates my waist and maintains a defined shape. The second best thing I love about the swimsuit is that it minimizes the areas that aren't so favorable.  For example the the bra area fits my  luciously large Size F  breasts firmly and the extra fabric (which creates the dress effect) covers my thighs keeping me looking playful yet tasteful.
I think I am ready to hit the beach in this lovely number! Oh and I am definately going to retire my old beach attire!
Marie's Take?
Swimsuits for All sent both Kristal and I a swimsuit to review. Being said, I had to jump in and share my thoughts about this new favorite go-to piece of swimwear!

I have my go to swimsuits, a little hesitant to choose a one piece, but I delved in! I chose a halter one piece with rouching and a little skirt! Â I have never felt so feminine, comfortable, and chic! How much fun is this piece!
You cannot help but feel fabulous, as the rouching hides the tummy, the skirt camouflages my personally defined "problem areas" and yet is a classic that will last forever!
And Guess What?
Please make sure to visit Swimsuits for all, especially as they are having a really great contest!
Their Swimsuits for All Contest offers you the chance to win a $1000 American Express gift card!!!! WHAT???
Here is what you need to do!
Find the Best Swimwsuit for your curves
Submit a photo and a nice blurb about what makes you Curvy.Confident.Chic. in your suit!
That is All!
What do you think?