Fashion is getting serious and quite fierce in the Bay (always has been, but picking up more steam)! Â Over the last two years, indie designers, fashion events, craft fairs, and fashion feuds have been cropping up, thanks to the efforts of Owen Geronimo. Seriously, with SFFAMA, Economics of Art, and San Francisco Fashion Week, and that is only a few, this man is on a mission to make it work!
The latest venture that the creator of the San Francisco Fashion and Merchants Alliance presents is The Economics of Art's Fashion and Tech Series- Fashion Tweet Up.  On Wednesday, April 28th, Owen has rounded up some of the Bay Area's fashion bloggers to discuss the effects of technology, specifically blogging as a form of media and how it is transformed the fashion industry.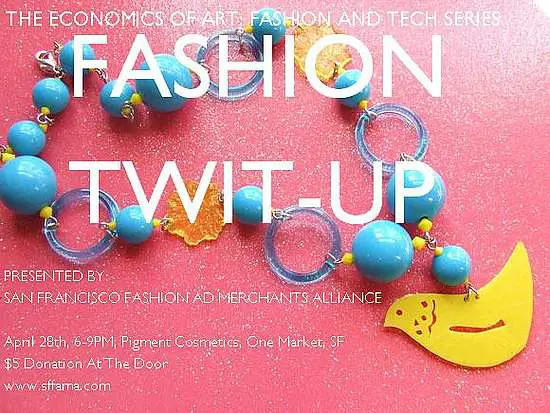 The fashionable panel includes:
Located at SF's own Pigment cosmetics, The Economics of Art's Fashion and Tech Series- Fashion Tweet Up panelists will address these following topics:
How has blogging affected the fashion landscape?
Why is blogging a popular media in fashion?
What are the challenges in blogging about fashion?
How do you become a successful fashion blogger?
Why blog about fashion?
What is a relevant fashion article?
How to Keep track of your readership
How important is the design of the blog?
What are the blogging tools available out there?
Should I start my own fashion blog? Is it worth my time?
Want to know more about the Economics of Art?
"Our mission is to provide an open dialogue to engage in a forum, which discusses the idea of the economics of art.  This series is focused on how to develop innovative solutions that address the impact of our nation's financial crisis on creative industries.  As a thriving epicenter of independent talents, The Economics of Art feature local artists, fashion designers, bloggers, retailers, and tech savvies in an effort to brainstorm and share new business solutions and to create an exchange network amongst peers in San Francisco's fashion and art community."
I am so honored to sit on such an esteemed panel!!! I am so flattered and extremely geeked about this!  Very Nervous too! Lol. Will I see you there?