With spring fastly approaching it won't be long before wedding bells start ringing and the wedding planning begins. Besides having a venue, a wedding party, decorations and transportation, the main item of thee event is the "DRESS". The dress is the integral piece of the entire event but for plus size women it can be a stressful decision. Whether it's a sweetheart, "A-line", ball gown, or a classic lace dress plus size women have the hardest time finding a dress to cater to our curves.
I have seen and even heard stories of women who go into starvation mode just so that they can fit into a dress that they may not be able to fit within a week. What makes matter worse is that there are only a few designers who cater to plus size women. The average American women is a size 14 however the average sample sizes range between sizes 6 through 10. This clearly means that plus size women can't even try on a sample dress if they wanted to. The only options are 1) to buy a dress (without knowing if it will really flatter you)  and tailor the dress to fit or 2) getting a dress made which can be more expensive than buying a dress. With 2.3 million couples getting married every year in the U.S. (which breaks down to nearly 6,200 weddings a day), I just don't understand why the bridal industry hasn't made any significant changes. Here are a few steps of what you can do to prepare yourself to find thee perfect dress.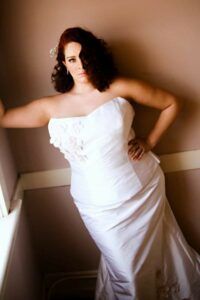 Know the theme or style of dress you desire. Take time to research online to locate the type of dress that catches your personality and style. Remember to record the designer and the design code.
Locate bridal boutiques in your area and call to see what selections they offer and if they carry plus size samples.
Know your body type and what kinds of dresses look good on you. For example A-line dresses are classic and they fit to your curves.  Ball gown dresses make curvier women look larger so you may want to consider a mermaid style dress which will incorporate a combination of thee "A-line" style and the ball gown style.