She is fierce.  She is funny.  She is not afraid to speak her mind, all while putting her best curve forward! Enter in the ever so stylish Elisa DeCarlo, fashion blogger from Diary of a Mad Fashionista!
No stranger to NYFW, Elisa has fashioned a distinct following from her prior attendances at the Mecca of fashion events! In her current press release, The Mad Fashionista met Tim Gunn, who is an admitted fan of her blog!  At the Isaac Mizrahi show, Elisa fashionably upstaged Kathy Griffin, as Women's Wear Daily attested: http://tinyurl.com/ycojsgd .
This season, Elisa reprises her role as The Mad Fashionista for the Fall 2010 NYFW! Fashionably adorned, The Mad Fashionista will also be wearing couture pieces specially designed for her by Mad Couture; SKWilbur; and hats by David Temple of Los Angeles and Ellen Christine Millinery. Mad Couture designs extreme fashion for plus-sized women.  SKWilbur fashions have a classic sensibility and haute couture level construction.  David Temple's hats are custom creations that merge modern technology with old world materials and craftsmanship. Ellen Christine is well known for her extensive editorial work and magnificent one-of-a-kind hats.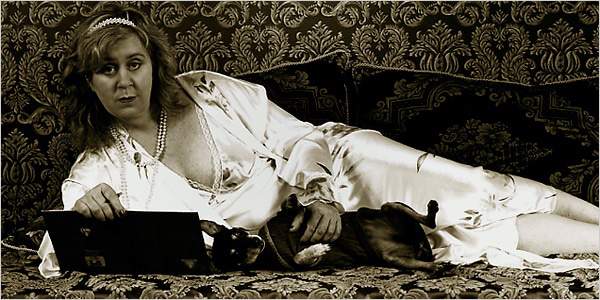 DeCarlo has earned the respect of fashion insiders- straight or curvy, and for NYFW, her voice will be one I surely tune into! If you have not had the chance to pop over to her blog, please visit Diary of a Mad Fashionista and do not forget to check her fabulous antics and insights on Twitter!
Definitely enjoy spotlighting Curvy Fashionistas doing their thing!