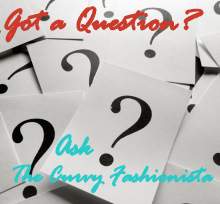 I quite often get emails about plus size fashion, the trends, how to, where I can find a specific item or outfit, and today I received my first- a gentleman sent me an email about how to respond to a failed attempt at complimenting a woman's shape…
Please read on, and share your thoughts about this…
I thought you might have some good insight on this, so here goes.

I met a really attractive and intelligent woman at a party a few weeks ago. It was a public event at an art gallery. She was a high school teacher in her early thirties. We had been talking for a good half hour and really seemed to be hitting it off. We had even made tentative plans to meet for coffee sometime.

Then, things suddenly went downhill. I commented that she had a nice, full, hourglass figure. I thought she would take it as a compliment but instead she became deeply offended. She snapped, "Oh really well perhaps I should do some plus size modeling!" I went into damage control mode and tried to clarify my comments but I think I only exacerbated things when I used the term "healthy." With a look of complete disgust, WHAP!, she slapped my face and departed.

I will never forget those agonizing moments in the immediate aftermath, as I was standing there alone rubbing my cheek, drawing some judgemental stares from onlookers. Needless to say, it was not my proudest moment, LOL.

She had the classic figure of a 50's pinup – large bust, narrow waist, shapely hips/legs. I guess she had interpreted "hourglass" as meaning big/overweight/full figured. I just thought it meant shapely and well proportioned.

When I told a female friend about this she shook her head and said it was never a good idea to comment on a woman's figure, even if I thought it was complimentary. What do you think about this?
My response to this?
I would have to agree… it can be a tricky line to balance or walk… only if you know her personally, then does that become appropriate to comment so openly.
You can tell her she is beautiful, but especially on the first date, that is not the place… you may have the weakness for curves, but when everything, for a curvy woman, is defined or commented on her appearance, it can be a sore spot for those who are already defensive about it.
Next time, if you see a woman with banging curves, and you think she is gorgeous, tell her she is beautiful and save the bodily comments for down the line, once you know how she feels about her body…
Ladies, care to weigh in?