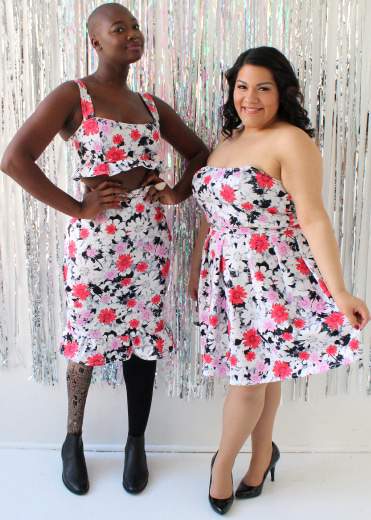 When you think of NYFW, odds are you think of couture fashion, luxury designers, and model uniformity. Well designer, Mallorie Dunn of SmartGlamour.com offered a fashionable take on diversity at her Spring 2016 fashion show last month. Dunn stayed true to her brand's mission of "empowering women through clothing and helping them on a road to body acceptance" by showcasing her handmade fashion line on everyday women with varying walks of life!
Ranging in size, ethnicity, and abilities walking the runway, Smart Glamour presented an amazing array of beauty with their models! I love this idea, don't you? A showstopper? One model confidently and boldly owned her look by NOT covering her prosthetic leg. She inspired me. I mean…  Isn't this what is missing in the fashion industry? The idea that fashion can be inclusive and not exclusive isn't new, but Smart Glamour definitely delivers on its mission!
"Smart Glamour has three main very broad goals: to empower women through clothing and help them on a road to body acceptance, to make good quality clothing that is sold at affordable prices, and to cut away at women on women hate that stems from insecurity and the belief that beauty and brains can not go hand in hand."
Without compromising style or affordability, Smart Glamour gives us fashion that allows you to customize the prints, details, and lengths of your desired looks!  You can totally get a hand made quality clothing without breaking the bank. Yessss!
So let us show and share a few of our favorite looks from their show and lookbook!
The Smart Glamour Spring 2016 Lookbook