We really enjoyed getting to know more about Thamarr of Musings of a Curvy Lady last week.  This week, we head over to L.A. via the interwebs to meet up with Ivory Bragg of Ivory Jinelle.  When Ivory isn't serving up colorful style with a 70s influence, she is helping children in the foster care system as a social worker.  Ivory is unapologetic about her body and her fashion, and it's impossible to look at her bold and vibrant style and not have a smile on your face…her mix of colors, patterns, and style is just so clever and fun! She truly is a plus size blogger YOU NEED TO KNOW!!
Meet Ivory of Ivory Jinelle!!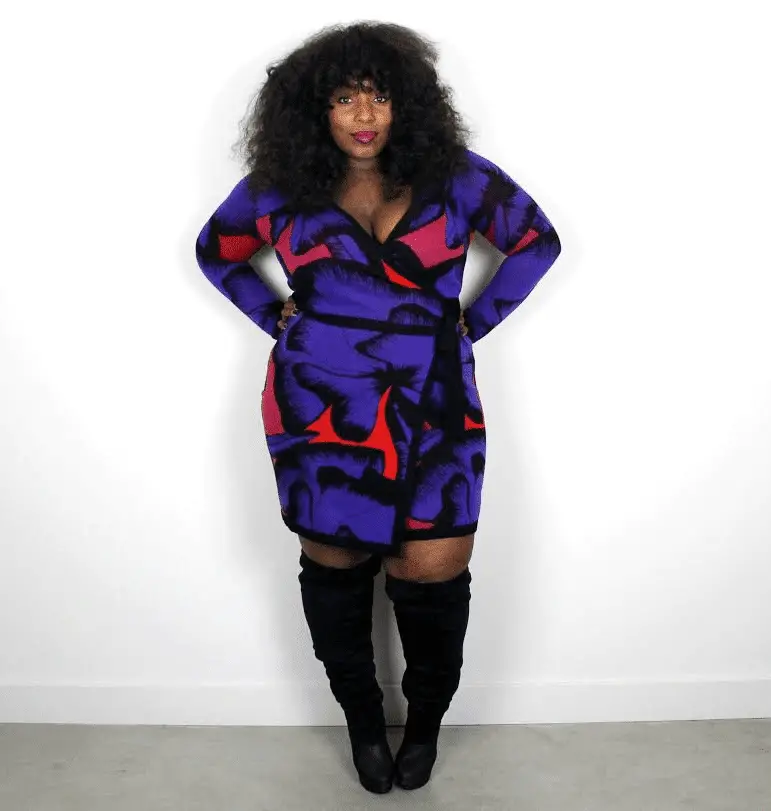 Blog:  www.IvoryJinelle.com
Age:  37
Height:  5'4″ (barely)
Location:  Los Angeles CA
How long have you been blogging?
I've been blogging since April 20, 2011. It sounds crazy to actually say that. Where does the time go??

What or who inspired you to become a fashion blogger? What led you to it?
I've always been complimented on my style and was told I should document my looks. My personal life is pretty busy, so I never thought I would have the time. My friends Monique (Curvesandchaos.com) and Keena pushed me into blogging. What made me finally agree was that I wanted to see more of me in social media. Women who looked like me. Dark skin, unapologetic with their fashion, and continuously pushing boundaries. 
Do you blog full-time, for fun, as a hobby? Share your evolution!
My career is in social work (foster care specifically), which is super stressful. I blog as a hobby. My personal style doesn't require the brain power dealing with abused children does, and it allows to me to be me.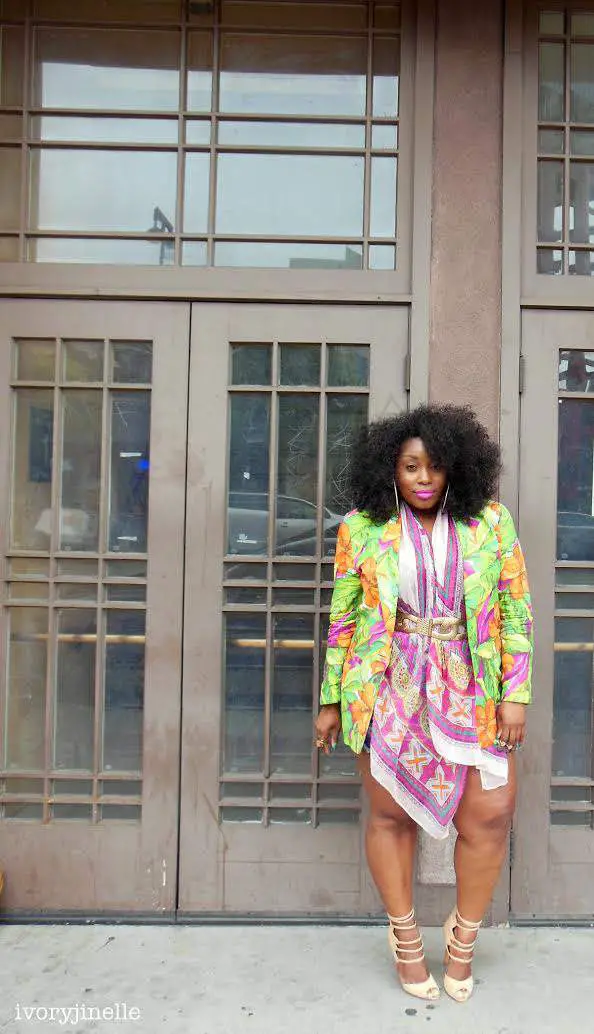 What is your favorite asset? Your legs, arms, waist? How do you play that up? My favorite asset?
That's a tough one because when I look in the mirror, I'm pretty pleased with what I see. While some would assume my favorite asset would be my chest, I believe it's my hips/thighs. I like wearing items that show off my womanly curves. Pencil skirts, high waisted jeans, fitted dresses, crop tops…all of these play up my hips/thighs.
What are the challenges, if any, you face regarding being plus size?
My biggest challenge with being plus size would be jeans/pants. I don't have much of backside, but my waist is smaller, my hips are wide. These factors make it extremely difficult to find jeans/pants that fit properly. The pants either sag or are too big in the waist or too tight in the thigh. 
What's your favorite thing about being plus size?
That I dress better than most of my straight size peers 🙂
What's your favorite thing about being a blogger?
Reaching women who may not feel as if they can step outside their box. Showing them it's amazing to be different and it's fun to try something they normally wouldn't. I love reading comments from readers who saw a specific post and tried the look themselves. Knowing your influence helped someone smile or feel better about themselves is priceless.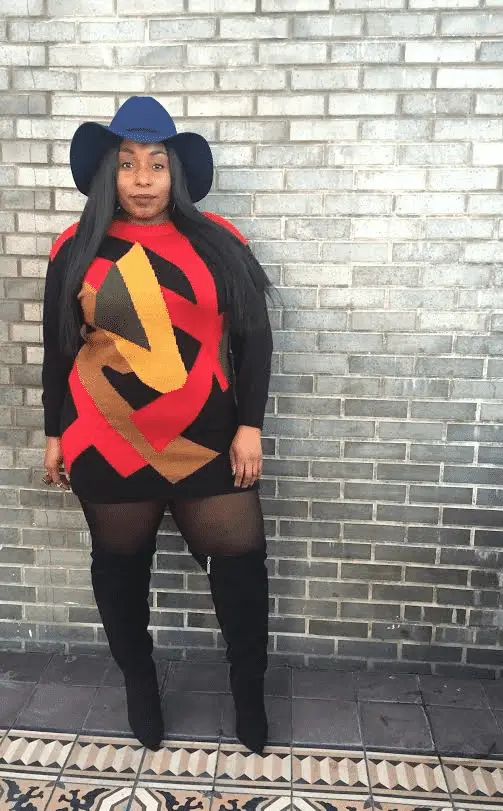 Who/what are your favorite designers/brands?
Favorite designers would be Jibri, Zelie For She, DVF, Balmain, and Asos.
Describe your personal style.
My personal style is 1970's mixed with a hint of sexy and pattern play.
Which bloggers inspire you? Plus or straight size! Any bloggers currently on your radar? Bloggers that inspire me would be Lion Hunter, Karla Deras,  Mona Harlem, and Lu zieht an.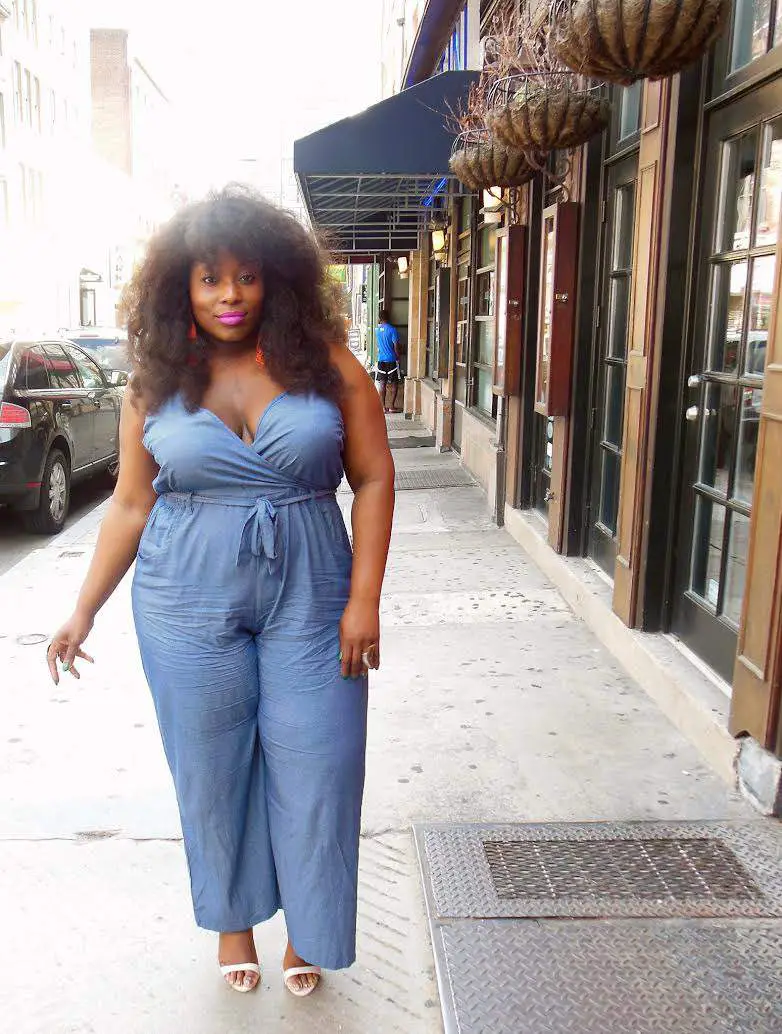 What do you think about where plus size fashion is today versus a few years back?
I've always had the ability of finding clothes that work for me, mainly through thrifting. The biggest shift that I have seen are there so many more options than before. It is very difficult for a plus size woman to say that her current shopping choices are limited. Now whether they fit your personal style is another question. The stores/brands are there, but I always want more options.
What do you think or hear from readers, is one of the biggest myths about plus size fashion?
The biggest myth would have to be that we don't deserve quality clothing because we're plus size. ALL sizes deserve natural fibers, a fantastic design aesthetic, and great quality.
Are you working on anything or have anything to share? Anything else you want The Curvy Fashionista's readers to know?
I have a couple of projects in the works, so please stay tuned. You can find me on Instagram, SnapChat, Facebook, and Twitter, all under IvoryJinelle.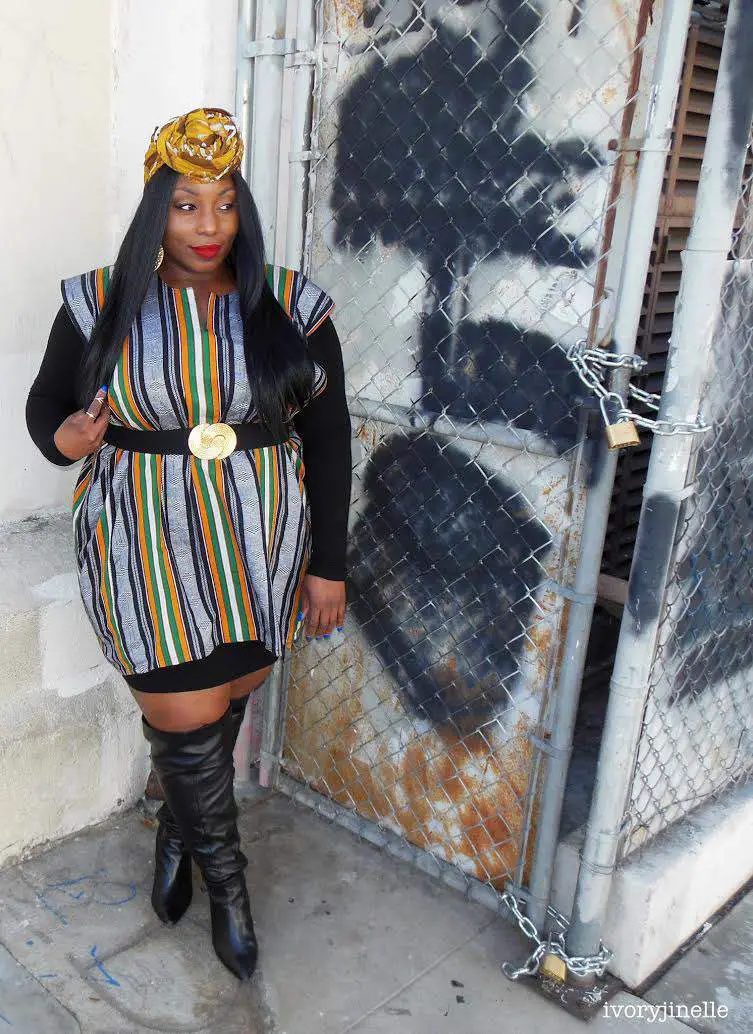 Lastly, what does Curvy.Confident.Chic mean to you?
Being happy in who you are and showcasing that through your personal style.

Be sure to check out Ivory's blog at IvoryJinelle.com!!!!

Do you dig her style? Which look is your fave? Let's talk about it below!!Are you a personal style blogger?
Want to be featured?
Make sure you fill out your deets here, so that we can feature you!