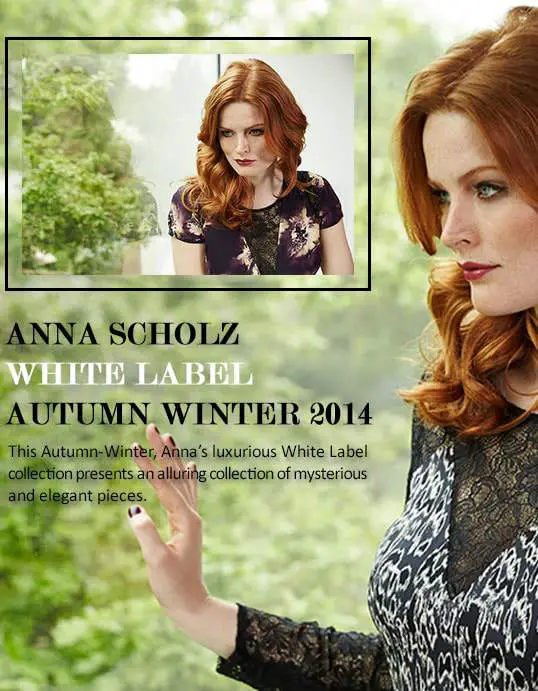 Ahhh, Anna Scholz, you never disappoint me. Constantly delivering on trend, bold, playful, and sophisticated luxe plus size options for the discerning plus size woman, with a look book to match. If you are not familiar, Anna Scholz is a UK based designer who fashions clothing at the higher end of contemporary fashion, tip toeing high end, with aspiring fashion visuals to match. You may have seen or heard her name if you also shop Simply Be, as there is an Anna Scholz for Simply Be range. Today's collection is not that, but the eponymous White Label!
For the Fall Look Book, Anna Scholz delivers her White Label- her higher end side with a sensual approach. "Modern Muse" is sexy. Feminine shapes, tailored body conscious dresses, a play on lace and dark florals, this collection appeals to me in a few ways. Drama. Especially with that black lace dress paired with the model lying on the floor?
Let me share with you what I am talking about:
First Look: Anna Scholz White Label Look Book- Modern Muse
Can we talk about how lovely this look book is? She makes me want to be a model laying on the floor somewhere, feeling all sexy- wanting to be someone else's muse. Heyyy boo. Take me away and do what you want with me. That is what I take away from this collection.
On the collection, the Anna Scholz team shares:
"Anna Scholz White Label Collection delivers quiet sophistication with a cool metropolitan edge. Layered Lace, sleek slits, and mesmerizing metallic all contribute to a sexy, sultry, and dark aura.

Luxurious prints on sumptuous prints take center stage, while rich dark shades of purple and midnight blue dance on chic minimal crepe jersey pieces… Urban gothic lace accents contrast with digital jersey soaked in the amazing rain print that will enhance all the right curves"
I would like to see how these dresses would be, slightly more fitted- this is how I would rock them… hehehe. But I already have a few items that I will be watching all season!
While they are not for sale yet, you can peep the end of season sale that Anna Scholz is rocking out with NOW!
If you want to learn more, please check out the interview that I did with Anna Scholz here! I adore her 'tude, passion, and skills like no other. One day, we will finally meet. One day, Anna. I promise.
What do we think about the collection? Do you see a few items that you are inspired by? Do you own pieces from her collection? Let's talk about it!