I smell a trend here…
One of the biggest plus size shopping frustrations has been sizing and the inconsistency of it across designers and brands. Well mega brand company, Charming Direct introduces Fashion Genius– a service provided to take the guesswork out of shopping for plus-size clothing.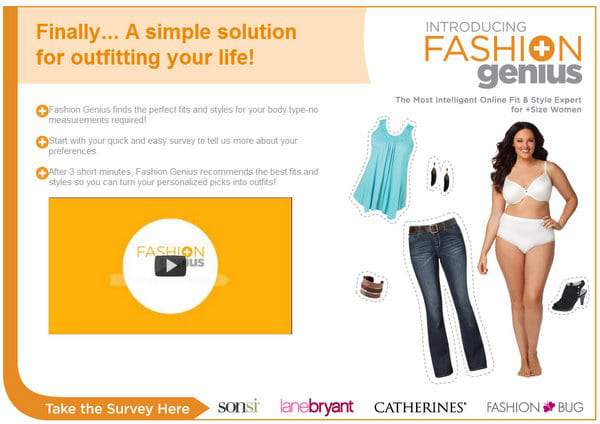 Over on The High Low, the concept is explained further:
Fashion Genius, a new service by Charming Direct—the parent company of brands Lane Bryant, Sonsi, Fashionbug, and others— aims to help plus-sized consumers find the best clothing fit and styles in under 3 minutes. The program posits itself as the "most intelligent fit and style expert for plus size women," where "math meets fashion, fit meets style." The trick is that all-around fit based on your body type, personality, and taste preferences–without any measurements.
Sooo curiously, I took the Survey over at Lane Bryant!
According to the Fashion Genius:
I am "Fearlessly Confident"
After taking the survey (no more than ten minutes), based upon you personality, body type, style preferences, and the items featured you'd stay far away from- voila! A style profile is created for you, along with suggestions, a style outfit board, suggestions and style tips JUST for you, based on the data you entered!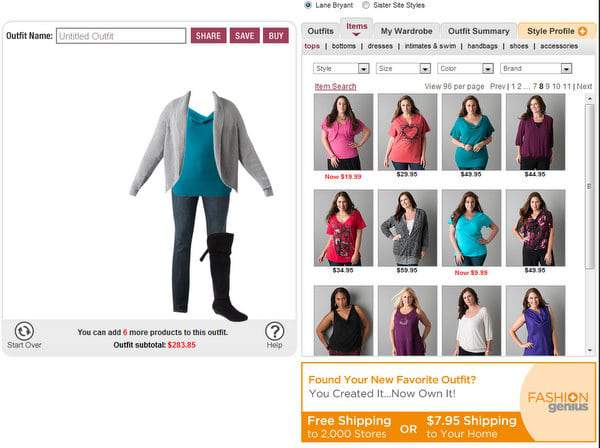 The items suggested to me, while not all of them were my style- MOST of them were… quite interesting if you ask me!
You can save, share, and shop your outfits right from the board! I cannot wait to hear more about the developments from this!
Have you tested it out? No? DO it! Try out the Fashion Genius and let me know what you think!