Today I bring you a Curvy Fashionista exclusive: Lola Parker and Sommer Green were the winner's of City Chic's Recent contest that I shared with you a few months back! Well, in addition to heading down under, Lola Parker and Sommer Green were the only two American models walking for City Chic and the only models of color! So excited for her, I asked for her to share her trip and experiences! Please read on to hear all about their journey!
My Amazing Trip to Australia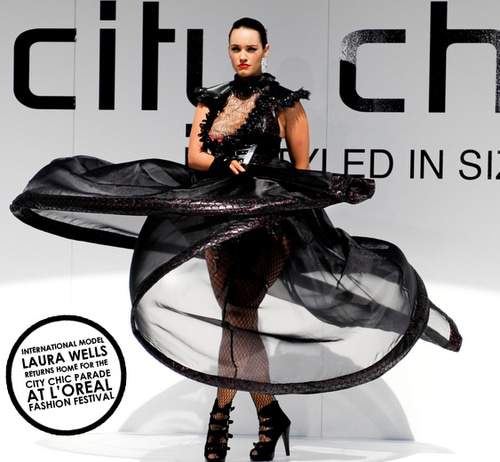 Okay, lets start at the beginning. I entered a contest to win a trip for two to Australia to see City Chic walk in L'Oreal Melbourne festival. For me it was one of those contests you enter but you never think you're going to win.
Well guess what? I WON!!!!!!!!!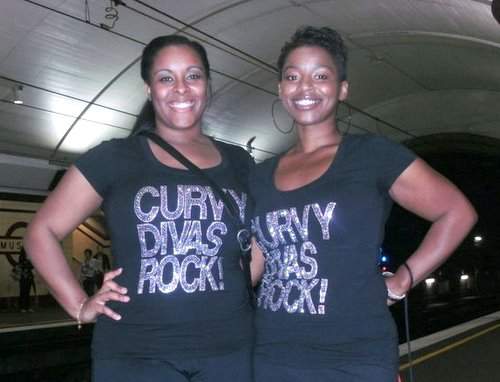 Well, after I was notified of my winnings;two airline ticket to Sydney and Melbourne, 1 night hotel stay in Sydney, bridge climb, 4 nighthotel stay in Melbourne, money for dinner, and transportations to and from airport., I picked myself from off the floor and began working out the details of the trip. I asked my friend Sommer Green to be my guest and she was just excited as me.
Day 1 Arrived at LAX around 6pm. Met up with Sommer and got our tickets. While we were at the terminal waiting for our plane we met Trey Songz crew who was flying to Sydney to perform in Usher's OMG World Tour. Let's just say we had a very nice flight chopping it up…
We arrive in Sydney at 6am and a car picks us up at the airport and takes us to our hotel. We check-in our luggage as we explored china town. After we got all settled and dressed we got a cab to the Head Office of City Chic to meet the staff. Everyone at City Chic was so wonderful. We had a tour of the grounds and learned how City Chic functions. During lunch Sommer and I were talking about modeling and how important it was for us to see a plus size designer and models in a fashion week full of straight size models. Next thing we know we are trying on clothes and auditioning to walk in the fashion show.
OMG, not only was I getting an all expense paid trip to Australia now I was going to be walking in the show.
I swear my body was floating. We jumped in the air a few times wiped the tears from our eyes and got down to business.
The next day we checked out of the hotel, caught a ride to the hotel and got on a flight to Melbourne. Soon as we get to the hotel- we check in, drop off our luggage off, and walk to the hotel where the rehearsal for the show was going on. We meet the BGM models and get started learning the routine. The models were so nice and helpful. It was so nice not to have to put up with cattiness or hateful glares- just people getting along and working on their craft.
Show Day
I wake up 5:30am get ready and meet the models and City Chic crew for model call at 7am. We arrive at Federal Square where the event was being held. So excited for the big moment. Not only were Sommer and I going to be the American plus models walking in the L'Oreal Melbourne show but we were going to be the first African American walking for City Chic. What a HUGE opportunity!!!!!
After hair and make-up, it was show time. The show was so surreal. There was a moment when my pants actually had to be cut off of me so I could make the dressing change. So much media and people in the audience. Every time Sommer and I walked out we could hear the crowed roar.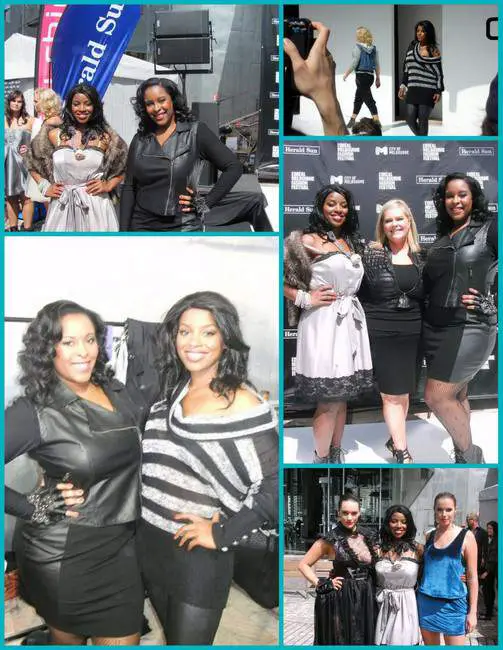 The Show


After the show was done, attendees of the show who were of color, came over to us to take a picture. We met this girl who was African who said she wanted to be a model and was so happy to see that there was someone on stage who looked just like her.
I wanted to cry.
After the photo op we got a bite to eat with City Chic staff, designers and an editor from Cosmo. Lunch was fast and we ran over to City Chic store for Cosmopolitan styling session and mini shopping spree. After we picked out our outfits for the after party plus some we headed back to the hotel to get ready. Afterliving it up at the after party we had dinner with members of Real Women Australia and set up a photo shoot with new plus size retailer, Hope and Harvest.
For the next two nights, we checked out of the hotel and stayed with our newfound friends from Real Women Australia and family. We went to Trey Songz's after party and an Usher concert the night before we left Australia!!! After seven days in Australia I had:
bridge climb,

walked inMelbourne's fashion week,

photo shoot,

shopping spree,

pet & fed kangaroos,

went to a Usher concert and met great new friends.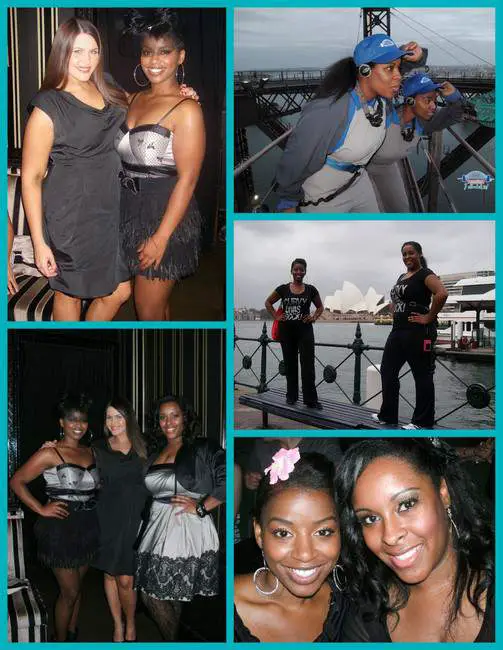 The people from City Chic were so wonderful. I don't even think they understand the great opportunity they gave Sommer and I. But I will be forever grateful. City Chic RULES!!
Congrats Lola! I am sooo Happy for you and I cannot wit to see what more happens with you on your journey into plus size modeling! How amazing!